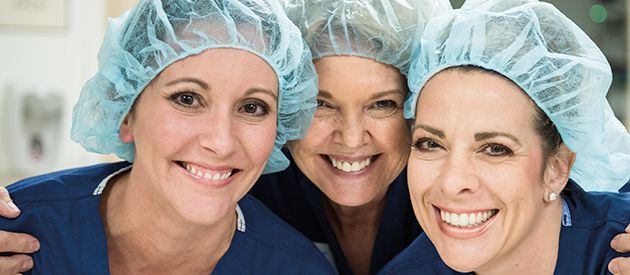 Welcome to MemorialCare Surgical Center Laguna Woods. We are dedicated to providing high quality care and convenient health care services to our community. Our team members are selected for their experience, knowledge, attitude and commitment to quality and care.
Located in Laguna Woods, our center provides an option for you and your family members to receive the same level of care and service provided by a hospital outpatient surgery department at considerable cost savings. We are both Medicare-certified and fully accredited by the Accreditation Association for Ambulatory Healthcare.
At MemorialCare Surgical Center Laguna Woods we focus our efforts on providing you with a nurturing, caring, and safe environment, and our patient satisfaction levels indicate that we are doing just that.
Our team looks forward to having the opportunity to serve you.
---
Mission
To care for our patients, serve our physicians, and improve healthcare in America.

Our Values

Clinical Quality
We are committed to outstanding patient care and clinical outcomes.

 

Integrity
We do what is right, no matter how difficult, without exception.  We say what we mean, and we do what we say.

 

Service Excellence
We seek to exceed the expectations of patients, physicians and each other in everything we do.

 

Teamwork
We work together, helping and supporting one another to make our Centers, Departments and all of SCA successful.

 

Accountability
We take complete, personal responsibility for our actions and commitments.

 

Continuous Improvement
We seek to relentlessly improve our performance in every area – clinical, operational, and financial – constantly   pushing ourselves to new heights.